Multiple Positions Available - Post-Doc, PhD, Project Manager:
Lab Technician/Project Manager: The Environmental Biogeochemistry lab is looking for a full time lab technician and project manager. Please inquire with janice.brahney@usu.edu.
​
PhD: Understanding the role of dust in catchment biogeochemistry
We are seeking a PhD candidate to explore the role of atmospheric dust in watershed biogeochemical cycles and aquatic ecosystems. The position comprises two main projects, one to track dusts from their sources through the watersheds they impact, and a second to examine the chemical constituents of dusts and their bioavailability in these watersheds. Additionally, the candidate will conduct a thorough review of the relevant research while developing their contribution to the field within a thesis supported by the above projects. Wide latitude in approach and methods will be extended to the successful candidate​.
MSc/ PhD Spatial and temporal erosion of the Great Salt Lake Playa and it's composition.
The successful candidates will assist with ongoing research projects and contribute specifically to examining the spatial and temporal variability in dust composition, generation, and transport from the Great Salt Lake (GSL) playa. Increasing consumptive water use in combination with drought is driving the GSL to the lowest levels seen in over 160 years, exposing vast areas of lakebed to erosion and entrainment. The GSL is surrounded by a large population center making increased dust entrainment as well as dust composition of high concern. The successful candidates will have opportunities to develop their own ideas within the broader context of the project.
The Environmental Biogeochemistry and Paleolimnology Lab is always looking for enthusiastic students to join our team
.
Our lab uses a variety of tools to address a wide variety of
projects
. Our present focus is on mountain lake and stream environments addressing topics such as climate change, atmospheric deposition, and land-use effects on ecology and biogeochemistry. If interested, please send a brief description of your research interests, your CV, copies of your most recent transcript and the names and contact information of three references to
Janice.brahney@usu.edu
.
Informal inquiries are also welcome.
Graduate students at USU are funded through graduate research assistantshps or fellowships. Graduate fellowships for strong students are available through the
National Science Foundation
,
US Environmental Protection Agency,
Utah State University, and the Quinney College of Natural Resources. Canadian students can find fellowships through the
National Science and Engineering Research Council
.
Undergraduate students can acquire research assistantships through the Qunney College of Natural Resources
Undergraduate Research Program
and through USU's
Undergraduate Research and Creative Opportunities Program
---
Powered by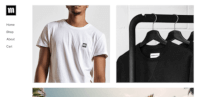 Create your own unique website with customizable templates.