Salmon Ecology Back
Many sockeye salmon (
Oncorhynchus nerka

)
populations in British Columbia have declined substantially in the late twentieth century. Changing ocean climate, habitat loss, and over-fishing are typically cited as the main driving factors. The decline in salmon stocks has led to considerable hardship for the local communities and represents a decline in a valuable source of lake nutrients and food for predators. Juvenile salmon leave freshwater systems as smolts (0-4 yrs) and migrate to the sea. At sexual maturity, they return to their natal stream to spawn and die. Because sockeye acquire ~97% of their biomass while in the marine environment, diminished returns have led to reduced nutrients in some coastal systems. Our research has demonstrated nitrogen deficiencies at the algal and zooplankton trophic level at low to moderate spawner abundances. We also demonstrated that the C:N ratio and d15N of lake sediments is dependent on
attendant nitrogen deficiency
in many lake systems.
In a related project we examined the trophic and species composition changes in Long Lake, a lake that has undergone substantial losses in sockeye rearing population in recent history. Combined returns of sockeye to Long Lake and Oweekeno Lake on the British Columbia Central Coast were once the third largest in Canada; Historic sockeye salmon escapements to Long Lake have been as high as 260,000 fish. Yet in 2000, only 1,430 fish returned to spawn. The decline in spawning populations was unprecedented in the historical period examined. Accompanying the decline were shifts in the
species composition, abundance of zoopl
ankton, as well as the nutrient dynamics of the lake
. These changes were not ameliorated by 15 years of nutrient fertilization. The fishery closed in 1997, and will remain so until the population shows signs of sustained recovery. This work was awarded the Mercer Patriarche 2010 Publication of the Year Award by the American Fisheries Society
Looking forward, I am interested in evaluating the long-term variability in Pacific salmon abundances in coastal ecosystems and the role of changing ocean conditions in marine survival. The former requires the development of new, compound-specific, geochemical proxies to differentiate between terrestrial and salmon-derived nitrogen sources. The latter recognizes that changing ocean conditions are a critical factor in determining growth and survival. Ongoing climate warming and changing marine conditions are altering the timing of salmon migration and migration patterns. These changes can affect survival by altering ambient temperatures, food availability, and the habitat ranges of juvenile salmon predators. Because these factors are still poorly understood, it is important to establish direct relationships between marine conditions and the growth and survival of certain stocks. It is particularly important to distinguish between the effects of natural regime shifts, climate change, and other anthropogenic impacts (fishing, aquaculture).
Undergraduate students interested in taking part in some of these projects should
contact me
Support provided by:
Powered by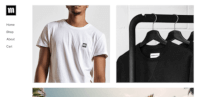 Create your own unique website with customizable templates.