Dust In Alpine Lakes Back
Human activities have significantly altered the concentration and availability of nutrients in the critical zone. The transport and availability of nitrogen and phosphorus are of importance because they are often the most limiting nutrients in many terrestrial and freshwater ecosystems. The erosion of desert and agricultural soils has the potential to transport nutrients, particularly phosphorus (within soils, organisms, and phosphate minerals), acid-neutralizing minerals (carbonates), heavy metals, and organic contaminants influencing both precipitation chemistry and aquatic biogeochemistry. Human activity has the potential to increase dust emissions through the destabilization of soils due to land-use activity.
We examined whether or not the dust-mediated transfer of nutrients and base-cations were sufficient to induce change in precipitation and lake biogeochemistry.
We found strong, recent increases in dust emissions (by up to 400%) over large regions of the US, primarily due to interactions between climate and land-use activities.
. One of the most significant results from this work is that rising dust emissions are contributing to large increases (up to 70%) in the alkalinity of precipitation across large regions of the western US, and non-trivial portions of the increase elsewhere. We show that human land-use practices are a key driver for observed dust emissions in Wyoming and demonstrate that dust emissions have the potential to impart large changes to lake ecology. This work has received some attention from the media, including National Geographic and Discover online.

Ongoing research in our lab is focused on quantifying the form and availability of atmospherically deposited nutrients. We are currently collaborating with the National Atmospheric Deposition Program and the United States Forest Service to address this knowledge and data gap. We hope to have some updates on this effort soon.
Support provided by:
Powered by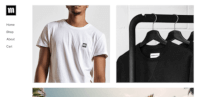 Create your own unique website with customizable templates.